How to Optimize SEO for Blog Posts: An Overview:
If you have a blog, you've likely heard the term SEO or Search Engine Optimization. SEO is a marketing term that refers to optimizing your content for higher ranking and visibility on search engines (such as Google or Bing). When you write a blog post, you want people to read it, and eventually, you want to turn those readers into customers. One way you can reach a wider audience is to optimize SEO for blog posts.
Here Are 5 Simple Ways To Optimize SEO For Blog Posts:
1. Link Internally
Internal linking is when you link to other content on your website (external linking is when you link to ANOTHER website outside of your domain). If you have any related posts, this is easy, as you can link to those other posts. If not, send your readers to different places on your website that are relevant to your post.
Internal linking will help increase your rank on search engines, as links indicate which content is related and what the value of that content is. If you're interested in understanding the semantics, read more on why internal linking is important here. This is one of the most important things you can do when you optimize SEO for blog posts.
2. Utilize Keywords
Keywords are a HUGE part of the process when you optimize SEO for blog posts. Keep in mind, utilizing keywords doesn't mean overusing keywords, as this can hurt your SEO. Instead, pick 1 to 2 long-tail keywords to optimize for in your post. Long-tail keywords can be short phrases or questions and are better for your SEO. For example, "how to preserve red wine" is more impactful than "preserve wine." Make sure that you incorporate keywords into the right parts of your blog post; don't just place them randomly.
You should include keywords in your title tag, headers and body, meta description, and URL. Finally, to pick the words, do adequate keyword research. If you're unsure of how to do that, you can utilize services like SEMrush and Ahrefs. Or, reach out to a digital marketing firm (like Evolve Global Marketing!) to do it all for you.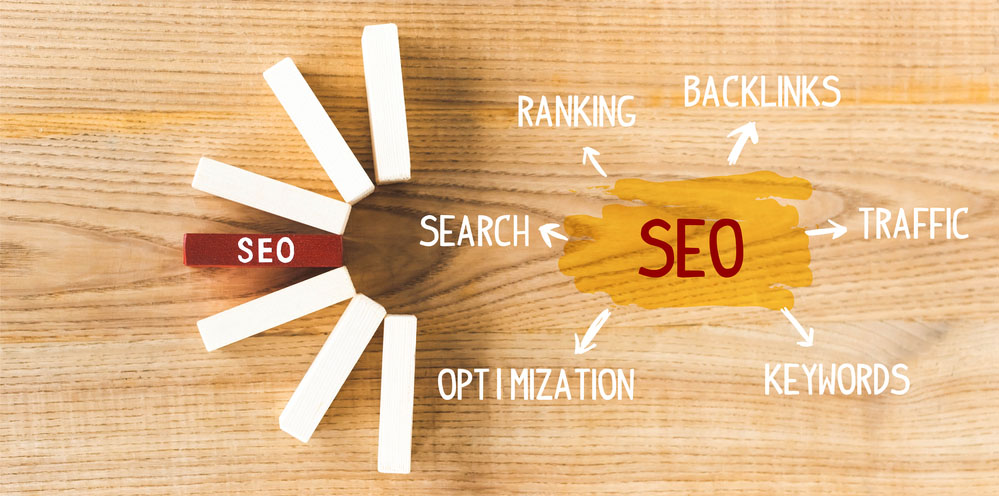 3. Optimize Meta Description, URL, & Title
Your meta description, URL, and title are three essential places to optimize SEO for blog posts. They all explain and preview the article to the potential reader, making them significant drivers in whether the person decides to click on your link or not. Incorporate keywords into each of these, because that's how search engines use their algorithm to determine your rank.
Finally, stay within the character limit for each of these components, so they don't truncate. If you're putting the time into writing blog posts, you want them to show up in full.
4. Make Your Post Mobile-Friendly
You want your blog posts to look and function well both on desktops and on mobile devices. Not only is it frustrating for the reader if your posts aren't mobile-friendly, but it also impacts your SEO. Google displays mobile-friendly results at the top of searches, so making your posts mobile-friendly is a great way to optimize SEO for blog posts.
This doesn't mean you have to create two blog posts; having two URLs for one post will negatively affect your SEO. Instead, design your posts so they are mobile- and desktop-friendly or use a responsive design website to do it for you.
5. Optimize Your Images
Finally, a creative way to optimize SEO for blog posts is to tag your images. When you add photos in blog posts, you are given the opportunity to enter a file name and alternate text field. Include keywords in both fields, and fill the alternate text field with a keyword-optimized description of the photo. Search engines use these descriptions and names when calculating your rank. So, doing this is a great way to optimize your blog posts without keyword-stuffing in the actual post.
As you can see, it's easier than you imagined to boost your SEO through blog posts. Ultimately, strong SEO helps generate traffic to your site, and traffic leads to sales. Take the time to implement these five easy tips to optimize your blog posts; you may be surprised at how well they work!