A Sneak Peek Inside Our Lead Generating PDF Process
Welcome to part two of three in our "Sneak Peek Blog" series. Okay, okay, so that's not a real thing…but we will be posting three blogs that each gives you a sneak peek into an Evolve Global Marketing process. In our last blog, we talked about the Brand Identity Process and how we go about creating Brand Identity/Messaging Guides. In this article, we're going to go over the process of creating lead generating PDFs, also known as lead generators, lead gens, and lead magnets. Let's get started!
Here's a mockup of a lead gen that we created for our client — we love to integrate the cover photo into a picture like this.
What is a Lead Generating PDF?
First thing's first, we have to go over what exactly a lead generating PDF is. A lead generator is part of a complete sales funnel, a multi-stage process that businesses lead their customers through starting with awareness and ending with purchase. Other important components of a complete sales funnel include automated emails, the sales landing page, and integrations. 
Lead generators are a tool used to raise awareness of and interest in your business, as well as turn potential customers into customers. They come in different forms, such as checklists, e-books, videos, free consultations, and more. At Evolve Global Marketing, we create lead generating PDFs for our clients as a part of our automated sales funnel service. The actual PDF varies based on the client, but they tend to look like guides or mini e-books that include checklists, graphics, and more. Now that you know what a lead generator is, we can get into the good stuff: the process.
Lead generator cover photo for one of our clients.
Before we go about writing a single word, one of our strategists sits down with our client and brainstorms ideas of what they want their lead generator to be. The point is to create something that potential customers will want to download, and when they download it, it will be so helpful that they want to continue working with your brand. It should be very relevant to your business and something that you consider yourself an expert in. So, we start by brainstorming a bunch of ideas and then narrow it down to our few best ones. 
After we set the topic of the lead generator, our clients provide bullet points about the topic for us. Remember, if you're an expert in this topic, you probably (definitely!) know more about it than we do! Our clients give us the most important information needed to make their lead generator actually helpful for those who download it. Our strategy team then reviews the bullet points to make sure it's all clear, then we move on to the next step. 
Part II: The Copy
After we finish the brainstorming and strategy portion of our process, we start with the copy. One of our strategists will work with one of our copywriters to make sure they know all relevant information, then the copywriter gets started. Here at Evolve Global Marketing, we love story-based marketing and use the StoryBrand framework and guidelines. 
For our lead generating PDFs, we follow StoryBrand, too. A main StoryBrand principle is to focus on the problem, so the first page of our lead generator spells out the problem that the customer is facing that this lead generator is helping to solve. For example, if our clients have a business that helps customers with investing, a problem could be that customers want to invest but don't know how, and a lead generating topic for that business could be "Top 5 Ways to Get Started With Investing Today." The first page of the lead generator would focus on the problem and help customers understand why they are reading that lead generator. 
Once our copywriter finishes the copy, our strategist reviews it and makes any changes necessary before sending it to the client to approve. Sometimes we go through multiple iterations with our clients and sometimes we just have one draft that works perfectly.
Part III: The Design
After everything is written and approved, we send the copy over to one of our designers and they take the reins. To understand how to properly design the lead generator with the client's brand colors and images, our designer does some research. No, they don't go and Google search "How to design a lead gen…" By research, we mean that they review the client's website and brand.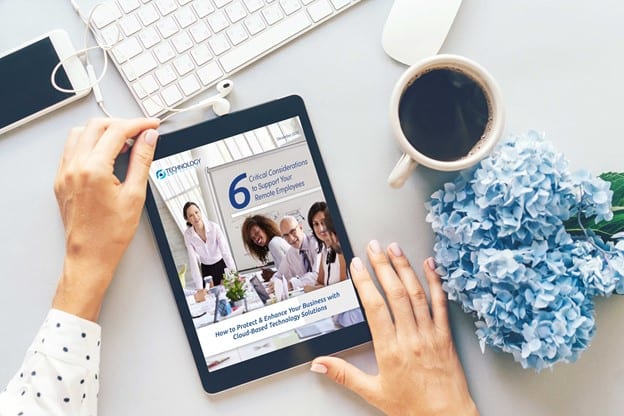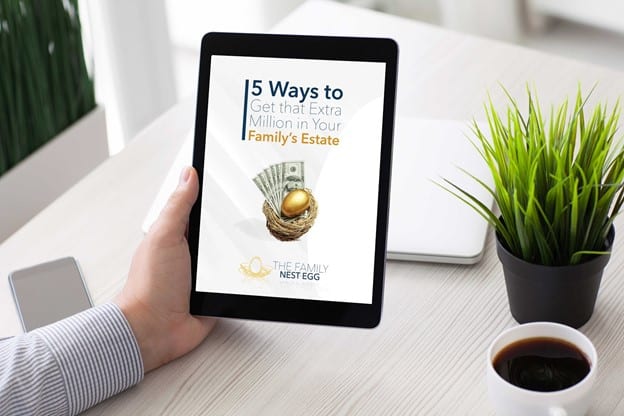 Two more examples of lead generator mockups — these images are great for websites, social media, etc.
This is where Brand Identity/Messaging Guides come in handy. If clients have a Brand Identity Guide, then they have a brand style section as a part of that guide. This makes the job easy for our designers, as they can just go into the guide and get the information they need. If not, a Brand Messaging Guide is still helpful, as it is designed in the client's brand colors and theme. In a nutshell, our designer takes a bit of time to think through how to design the lead generating PDF by learning more about the client's brand, then they go and design it! 
As you can see, our lead generating PDF process is quite simple. After the lead generator is finished, it is most often used on a client's website as a way to generate leads by getting emails. Lead generators are most effective when there is already an automated email sales funnel set and ready to go after a potential client downloads the PDF. Sometimes we work with clients on this part of their complete sales funnel and sometimes we don't — it all depends on the services they've hired us to do! 
And that's really all there is to it!
We strategize with the client, we write the copy, and we design the PDF. Hopefully, this sneak peek into our lead generating PDF process can help you create a lead generator for your business.
Happy Evolving!
Feel free to schedule a call with us and we can give you a helping hand. Happy evolving!