A Sneak Peek Inside Our Brand Identity Process
Building a strong brand is an essential part of building and growing your business. Many business owners believe that a brand is just about a clever logo and a well-designed website, but it's so much more than that. Within your brand identity is voice, messaging, design, strategy, and even more. If you're going to take away one thing from this post, remember this: If your brand doesn't have a clear, consistent message, you're going to lose customers. 
Since we've already written a basic brand guide for you (psst…it's the article linked below), we thought it might be helpful for you to see a sneak peek into what our brand identity process looks like. So, keep reading to learn more about what it looks like when a digital marketing firm builds a brand identity for a business.
Brand Identity: An Overview 
Of course, the actual brand identity process and deliverables will change from business to business. In this blog, we're going to focus on the process of the services that we offer (because that's the only thing we have a process for…duh!). 
When you're building a brand, you should be intentional in each of your steps. Just because you see a bunch of taglines or promos on your competition's site doesn't mean that you should include those, too.
Some essential brand identity components are:
Brand Strategy
Brand Messaging Guide
Competitive Research
BrandScript
One-Liner/Elevator Pitch
Tagline

Website Wireframes
Business Cards/Stationary
Social Media Graphics
Brand Colors
Logo
Typography
Lead Generating PDF
We're not going to go into the details of all of these in this article. Instead, we're going to focus on the standard process we follow for our clients. The deliverables we create depend on the client, but there are three parts of our brand identity process: The Strategy, The Copy, and The Design. Through these, we are able to create powerful, impactful, and effective brand identities. Let's get into it! 
Like we said before, we always start with strategy. Without a brand strategy, all you're doing is creating different assets that don't have a purpose behind them. Even more, without a strategy, your branding won't be consistent or clear, and it's very important to be both consistent and clear in all of your brand marketing.
At Evolve Global Marketing, we have the StoryBrand Guide Certification and the Business Made Simple Coach Certification, so we typically begin with the 7-part StoryBrand messaging framework when we're building a brand for a client. We start by having an initial call with the client to learn more about them, their business, and their goals, then we continue the conversation and take them through the 7-part framework to create the brand strategy and brand messaging.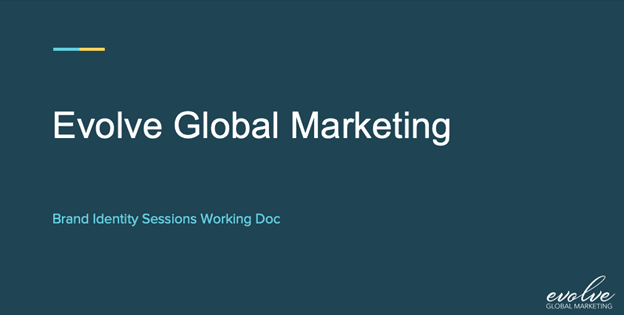 StoryBrand is all about the problem, so we take a lot of time to help our clients flesh out the problems their customer is facing.
But we don't stop there! In fact, we have a robust process wherein we combine elements from marketing experts that we love, knowledge from our training and certifications, and we draw on our 20+ years of experience. For example, we take inspiration from Marty Neumeier's book Zag and his process to find out what makes a brand unique to create a uniqueness statement. We work with our clients to think through how their brand is supposed to make people feel, their voice and style, their target market, their core purpose and vision, and much more. 
Here's a snapshot of what our "uniqueness" process looks like with our clients.
What's important for us is to figure out what makes our client unique and how we're going to help them engage their audience by communicating a problem and solution. The brand strategy isn't just brainstorming calls, though. We actually create a tangible Brand Strategy Deck, which includes the following (and MUCH more!):
Goals and Objectives: Defining your goals and what success looks like for you is the first step of the process! You have to know why you're doing what you're doing.
Core Purpose & Vision:

Your core purpose is the fundamental reason your company exists beyond making money and your vision is a visual representation of what you want to achieve.
Competitive Research:

It's always important to know your competitors and what they're doing, especially because you want your brand to be unique to theirs.
BrandScript:

Your Brandscript is how you talk to your clients, the feelings you invoke from them, and how you relate to them, all in a few paragraphs. You can use it to create copy for your marketing assets and website. 
One-Liner/Elevator Pitch:

One-liners can be used for short descriptions on social media, email signatures, and as a response when someone asks, "What do you do?"
Taglines:

Taglines can be used in any marketing materials, advertising, or brand execution. 
Voice & Style:

The way you speak to customers matters, so we define a clear voice and style and ensure that every brand execution communicates this tone of voice.
Uniqueness Statement:

This is the statement that represents what makes you the only brand who does what you do; you have to stand out from your competition, and this statement is the definition of what makes you stand out. 
Target Market:

Understanding who your customers are is essential to your brand identity. Here, we define our clients' target audience, demographics, psychographics, wants, fears, etc. 
We refer back to this Brand Strategy Deck often…AKA pretty much anytime we're creating something for that client. And that brings us to the next part in our process: the copywriting.
Part II: The Copy
Next comes the copy. Now, at this point in our process, we've already created most of the brand messaging and our client has already approved it. We send the Brand Strategy Deck (which includes a looooot of messaging resources) to one of our copywriters, and they use that to create the Brand Messaging Guide or Brand Identity Guide, depending on what our clients have hired us to do.  
Brand Messaging/Identity Guide
This guide is a way to take all of the aspects of your brand and package them together in one document. To create it, one of our copywriters takes the Brand Strategy Deck and pulls the relevant information and messaging from it to put into the guide. From the Brand Strategy Deck, they're able to understand the brand personality, brand messaging, and the brand voice of the client's company. By using that, they make one cohesive document that can be used to express a brand's identity quickly and effectively.
Here's a screenshot of the Brand Identity Guide outline that our copywriters use to create each client's guide. 
This Brand Guide is so important for clients because it's a way to make sure that their messaging is consistent in every single thing they do. It can go to outside marketing contractors when they are working on social media or a new sales funnel or they can use it internally when they hire a new team member.
We repeat this basic process to create the copy for all of our brand identity assets. Our copywriters rely heavily on the brand strategists' knowledge of the client (that's why those initial calls are so important!) and the Brand Strategy Deck for the messaging we use in our automated sales funnels, social media campaigns, lead generating PDFs, SEO & PPC AD campaigns, and so much more. That's why we take time to go through all the discovery work and then create the 7-part StoryBrand framework with our clients; it's the basis for their brand identity. 
Usually, the copy goes through a few iterations with review from the brand strategists and the clients. Once the final copy is approved, we send it to our design team. 
Part III: The Design
The final step in our process is the design. Once the copy is approved, we send it to our design team. You probably know what happens next! Our designers work their magic and build out a Brand Identity/Messaging Guide using the client's colors and relevant images. If we're hired to do the logo and design elements for a client, we'll include a Brand Identity section in the guide as well where it'll go over all of the details. 
Our designers are so talented and we're always impressed when we see the beautiful final product of a Brand Guide. The design process varies depending on what our client has hired us for. If they've hired us for social media, we'll create graphics that align with brand identity. If they've hired us for their website, we'll design and build out the websites with our web designers & website developers…you get the picture. 
Here are snapshots of some of our final Brand Identity/Messaging Guides.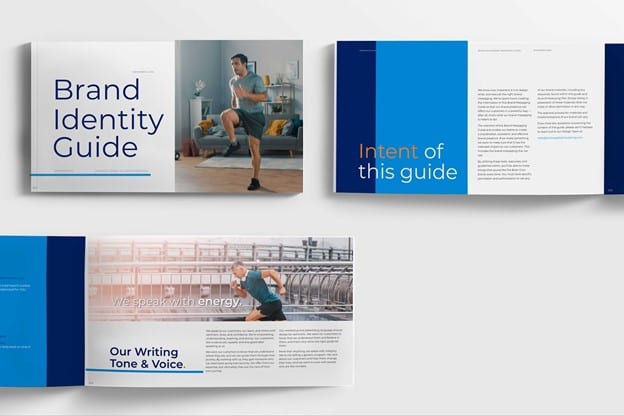 Brand Identity Process: Key Takeaways
Okay, we know this was a loooot of information, so let's review some of the key points.
We hold strategy calls with our clients to figure out their main problem, what makes them unique, their voice and style, and all of the other elements that go into our Brand Strategy Deck.
To create a brand identity, we start with the strategy and draw upon StoryBrand,

Zag

by Marty Neumeier, Business Made Simple, and our expertise.
Once we have the Brand Strategy Deck, we take all of the elements and messaging within it to create the copy for either a Brand Identity Guide or Brand Messaging Guide, a tool that our clients use to have a tangible guide with their messaging, purpose, voice, style, target market, and more. 
Finally, we put it all together and design the guide so that it is cohesive, consumable, and impactful. 
And there you have it!
A sneak peek into our robust but powerful brand identity guide. Hopefully, this helps you better understand what exactly goes into creating a brand identity guide and what your brand identity needs to encompass.
Happy Evolving!
Feel free to schedule a call with us and we can give you a helping hand. Happy evolving!